If the three things you are looking for in your next running or walking event are "flat", "fast" and "stunningly beautiful" – then you've come to the right place! Magical Omaha, less than an hour – and about a million miles – away from the hustle and bustle of Auckland City plays a most gracious host to the Omaha Half Marathon. And don't just take our word for it. The Omaha Half Marathon was selected as one of only ten worldwide "Bucket List Half Marathons" by the world's bigest running publication ... Runners World USA.
The half marathon course is acclaimed as one of the most beautiful – and fast – you will find anywhere. It features a full circumnavigation of the Omaha Peninsula, including 2km on the hard packed white sands of Omaha beach. Added to this is an out-and-back over the causeway and around the coastal reserve at historic Point Wells. Throughout, you are treated to wide sea views and the water is never more than a stone's throw away. Both the 5k and 10k runs follow the route around the peninsula, with the 5k turning around near the surf club whilst the 10k continues right up to the bird sanctuary at the northern tip.
We take our finisher medals seriously
The team at Running Events take the task of creating the best finisher medals in New Zealand very seriously. We want every single person who crosses the finish line and smashes their fitness goals to take home a beautiful moment of a great day out and an awesome goal acheived. If you don't believe us, take a look at last year.
Driving to the event on race morning is easy, but why not make a weekend of it? Omaha is replete with holiday home rentals suitable for all budgets, from Russian oligarch down to those of more modest means. Take on the challenge of the Omaha Half Marathon, then settle onto the deck of your rental for a BBQ and a well-earned glass of wine!
Wear It With Pride: Event T-Shirt - $39
How do you know someone at the party has run a half-marathon? Because they'll be wearing one of our superb Omaha Half Marathon event t-shirts. Featuring a smooth, sweat-wicking polyester weave, a super-comfortable runner's cut and awesome sublimated graphics, these tees are keepers. Order yours with your entry ticket or - if you forgot - add it on now. But hurry, numbers are strictly limited and when they're gone, they're gone!
The perfect escape from the pre-Christmas madness, a fun and fitness filled day or weekend awaits at Omaha this year. C'ya there!
Video Showcase
Course Tours
Take a look at our course tours - in glorious 4k video - for the highlights of the Omaha Half Marathon ...
A look back at some amazing moments from previous events ...
OMAHA HALF MARATHON
By The Numbers
Life's a beach and here's the numbers to prove it ...
RACE DAY - 03 DECEMBER 2023
OMAHA HALF MARATHON TICKETS
Four To Choose From!
Important! Please familiarise yourself with our T&Cs (see below) prior to registering.

2023 OMAHA HALF MARATHON IS SOLD OUT
We are unable to accept further entry for the 2023 event. There is no waitlist and no race day entry will be available. Thank you for your support - if you missed out in 2023, please sign up early and join us in 2024!
When entering one of our events, you will be required to accept our Waiver, which includes vitally important information we do not want you to miss. Above all else, you must acknowledge that your registration is non-refundable and cannot be deferred to a later edition of this event or transferred to another event (read our Refunds & Deferrals Statement). To be fair and equitable to all - we will not deviate from this position under any circumstances. You will also be acknowledging our Participation & Competition Rules including the important stipulation that - in all disputes - the Race Director's decision shall be final.
References:
Age restrictions are calculated using the participant's age on race day.
You must be registered by midnight on the Sunday one week prior to the event to qualify for a personalised race bib. If you register after this time you will receive a generic Late Registration bib number.

Please also note:
All amounts are in NZD and inclusive of GST. You will be directed to our secure online payment partner, Windcave, to complete your payment. All payments over $100 are eligible to use our "FlexiREV" facility to split your payment into 4 fortnightly installments (5% service fee applies).
The Omaha Half Marathon features a beautiful coastal route that takes in the many highlights of the Omaha Peninsula and nearby Point Wells. the course features a variety of running surfaces and some of the most amazing views you will find anywhere. All of this on a flat and fast route that is sure to see lots of PBs!
FINISH: Rahui Te Kiri Reserve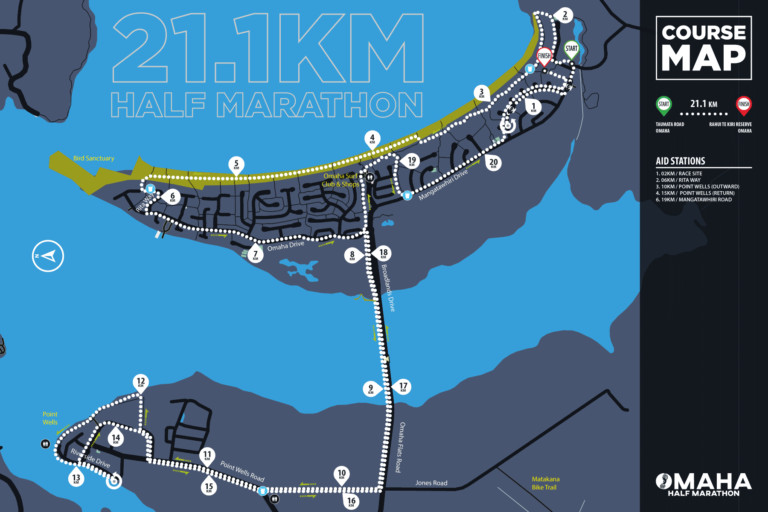 The 10K Classic takes runners and walkers on a full loop around the Omaha Peninsula across a variety of surfaces with stunning views around every corner. Boardwalk, beach, utility trail and road – the one constant is that this course is flat and fast!
FINISH: Rahui Te Kiri Reserve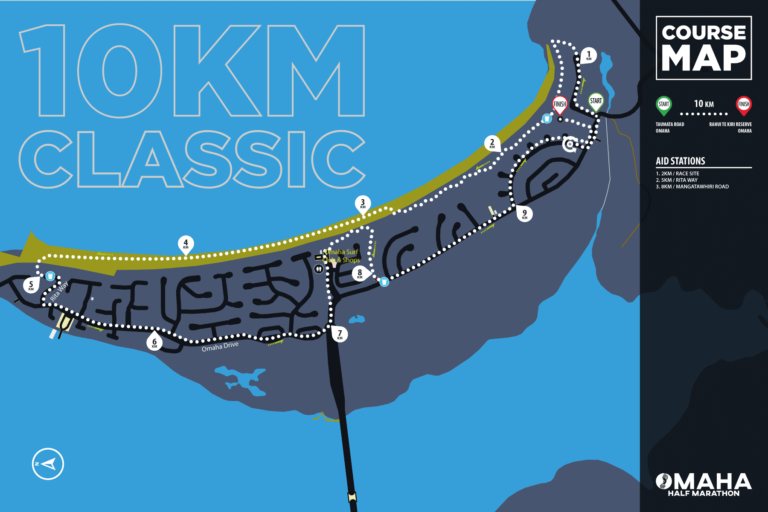 If the longer distances are not your thing – or you want to blast a super-quick time without any running on the beach – the 5K fun run and walk is for you! After a loop around the scenic reservoir, the 5K follows the wide beachside path north towards the Surf Club before turning onto Mangatawhiri Rd. From there, you'll join the half marathoners for the return stretch back to the finish line and your well deserved finisher medal!

FINISH: Rahui Te Kiri Reserve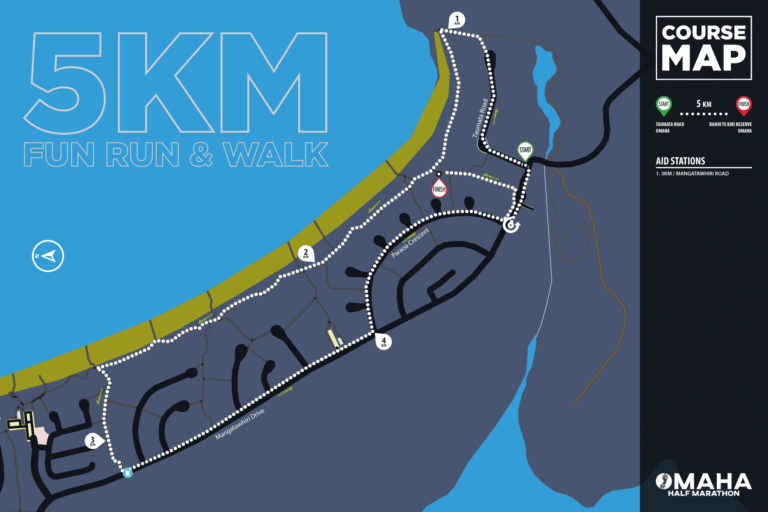 Feel the thunder! We expect a huge line up of adults to cheer on the kids as they take centre stage for 2K dash. The dash starts on Taumata Rd, a safe and quiet cul-de-sac. The loop course takes all the kids right past the finish area half way through where plenty of whoops, cheers and encouragement will help carry them through the second km. And when they finish – an awesome finisher medal and a lolly to replace those lost sugar reserves!
FINISH: Rahui Te Kiri Reserve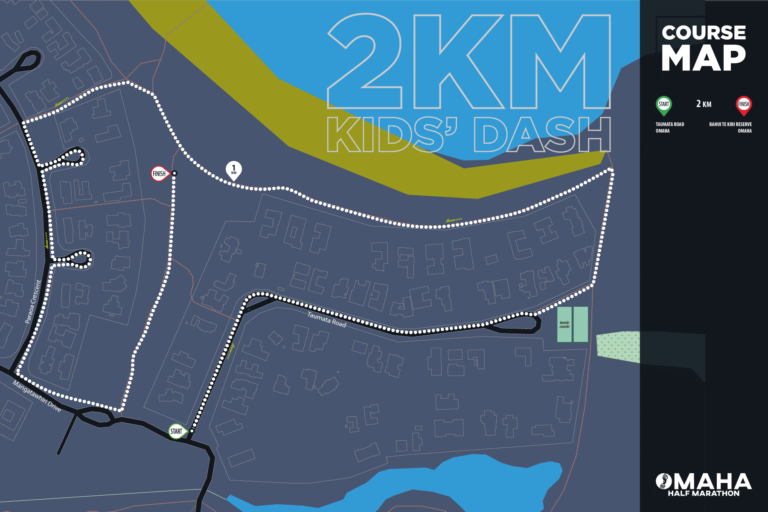 RACE DAY - 03 DECEMBER 2023
Past Events
We've created thousands of special memories at the Omaha Half Marathon. Here are some of them ...
Event Recaps
Check out photo galleries, videos, medal designs from previous events.